25 Oct

Savio Soares: France and Portugal 10/25 from 5:30-7 PM

Savio Soares Selections mission is to showcase Expressive Wines from Small Growers.  Check out Savio's bio here, and you'll understand perfectly why the land and the wine are so connected for him.  The native of Brazil carries quite a few small productions from all over Europe like the ones we'll taste tonight, but he never eschews size where a large operation can maintain finesse.

Maison Yves du Port "Fleur de Chardonnay" – Organic

Another fantastic example of the ancient movement of glacial soil yielding a chardonnay with every modern privilege in the winery, lots of time on the lees, and substantial fleshiness maintaining supreme elegance and versatility.  You could dip your crab in it, but you won't.

Domaine Pierre Richard Cotes du Jura Poulsard – Organic

Still quite small, this 10 hectare estate has been acquired parcel by parcel for generations in the Richard family.   The soil is ideal for Poulsard here in Vernois with clay, marl, and most beneficially, limestone molasse.  Only indiginous yeasts are used and tradition is strictly kept in the Domaine's production of all the classic wines of Jura. Because of the cool climate, the wine stays pale and fresh even after a 10 day maceration.  Earthy, aromatic, and light on it's feet, pair with sausages, hard cheese, holiday fare, and Thanksgiving leftovers.  Loves a light chill.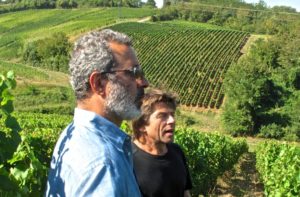 Casa de Mouaz Dao Branco – Organic/Biodynamic
Passionate biodynamic farmers after the teachings of Rudolph Steiner, Winemaker Antonio Lopez farms vineyards with enough biodiversity to look like wilderness.  This Encruzado, the oldest white grape of Portugal, is grown on 30 year old vines.  The grapes are hand-harvested, cold fermented, and aged for 6 months on the yeast lees for fullness of texture.  Pair with traditional Southern Italian fare, and white meat dishes with lemony or creamy sauces.  Surprisingly ageable.
Quinta da Serradinha Vinho Regional Lisboa – organic 
A beautifully mineral-veined red grown in the cool Atlantic climate of Lisboa on a tiny 5 hectare estate with completely organic farming, Quinta da Serradinha Tinto is a blend of 35% Baga, 30% Castelão, 20% Touriga Nacional, 15% Alfrocheiro.  It is treaded barefoot in the traditional way in open vats, fermented naturally, and aged in seasoned oak for two years after a 10 day fermentation. Equally suitable to the table or the back porch, the vineyard blend is a perfect expression of Portugal's exotic and accessibly priced wine making culture, and pairs well with a variety of cured meats, rich seafood dishes, and hearty fall and late summer veggies.