30 Sep

Tasting: Kermit Lynch Wine Merchant, Sat 10/1 from 11-3

The Ultimate Relationship Importer of Fine French Wines, Vin de Pays Gems, and Revolutionary Cru Beaujolais, Kermit Lynch Wine Merchant, needs no introduction in our crowd.  Thomas Morgan, KLWM's Southeastern Regional Manager, will join us to pour and discuss some perennial Shoppe favorites and new additions.  This rare tasting opportunity will feature the following and maybe some more!

Vaucluse Blanc et Rouge Vin de Pays, produced by Domaine Durban for Kermit Lynch in the limestone soils in and around the Domaine ups the ante for Rhône blends and features that elusive, black Mediterranean hybrid, Marselan.

Our Domaine Les Pallières Terrasse du Diable and Racines Gigondas are very much awake and showing well, with incredibly broad fruits and licorice notes and mineral character just beginning to peek out.  These wines are full of surprises, showing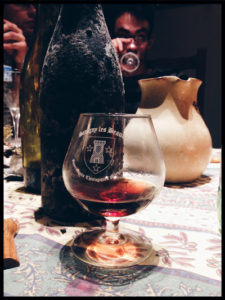 different wonders every year of their evolution, and capable of evolving and gaining elegance and complexity for the next decade or more.  Here are notes from a vertical tasting at KLWM in 2012 that give an idea of how long and fascinating the lives of Gigondas can be. 
Domaine Pierre Guillemot Bourgogne Rouge and  Savigny-lès-Beaune , one of our favorite Burgundy producers to enjoy with our families at the holidays with an approachable profile and price.
Régnié Grain & Granit, Charly Thévenet's fresh, hip, and young wine that is the living legacy of the Gang of Four.