17 May

Twomey Sauvignon Blanc 2014 and Wensleydale w/ Mangoes: A Love Story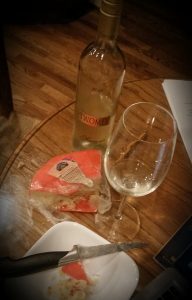 There are food wines and then there are food wines.
I knew I had to get started on the newsletter tonight, so I grabbed a bottle of the Twomey 2014 Sauvignon Blanc on the way out of the Shoppe hoping that maybe it would provide an experience worthy of sharing with Wine Shoppe guests.  Not only have I not been disappointed with my choice, I've been amazed! The first short pour with which I always begin to swirl, examine, and nose was lovely right out of the gate. The color is of light straw with a hint of verdigris and the nose is tantalizingly tropical with a darker whisper of compressed, ultra-ripe honeydew. Perfectly bone dry, its medium to medium-heavy body is supported by strong and lingering wet slate that fades prettily into preserved stone fruits and summer herbs. Featuring fruit from Twomey's Napa and Sonoma vineyards, this Sauvignon Blanc, billed as "Easy to Love" offers not only this, but a deftly packaged and quite surprising complexity from a powerhouse family of brands (Silver Oak) that needn't have taken the risk at all in bottling something not only delicious, but genuinely interesting.
Y'all and then I found this hunk of Wensleydale with Mangoes in the refrigerator. The tropical nuances in the wine's aroma and the actual tropical nature of mangoes, the slate-like and slightly powdery mouthfeel of Wensleydale cheese, and mostly the fact that by this time (like 20 minutes ago) I'd had two glasses of wine prompted me to try pairing the two. Holy moly. No bitterness. No competition. No build-up of unpleasant overtones on the finish. What I did find: the undeniable flavors of Colombian coffee and caramel. Or maybe Ethiopian Yirgacheffe and sweetened condensed milk. No bull. Try it.
2014 Twomey Sauvignon Blanc, $27.99 'til it's gone