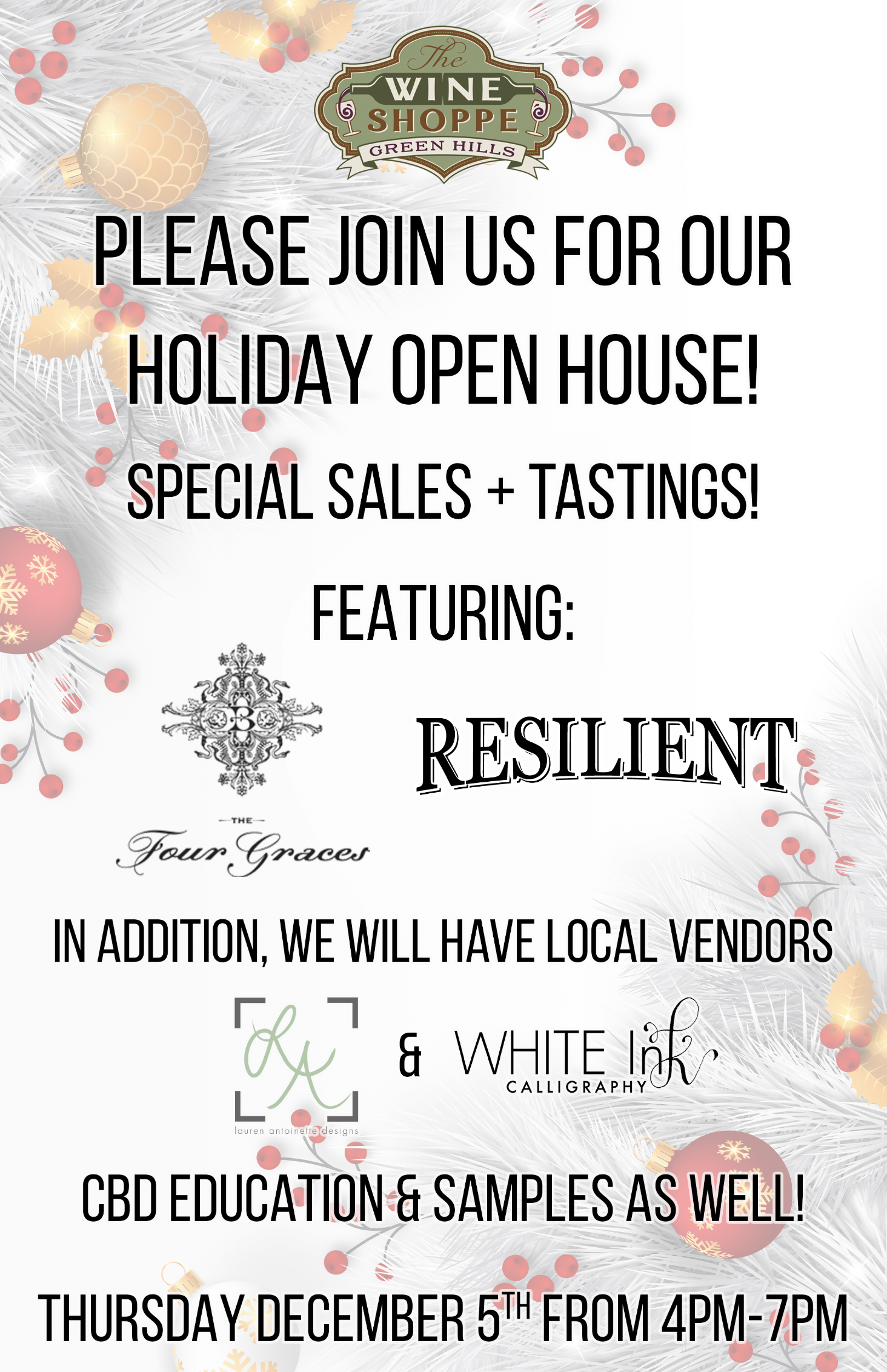 02 Dec

Holiday Open House!!!
Four Graces Wines
The Black family purchased an existing vineyard in the Dundee Hills of the Willamette Valley in 2003 as a family retreat. That same year The Four Graces was founded, and the winery was named in honor of the Black's four daughters. They immediately began turning the estate into a sustainably farmed, well-tended vineyard with the goal of producing rich, elegant, delicious and complex wines.
Today The Four Graces is owned by Bill Foley and produces Pinot Noir, Pinot Gris, and Pinot Blanc renowned nationally and internationally for their balance, elegance, complexity, and richness. The wines are crafted under the guidance of winemaker Marc Myer's who has been in the industry since 2008 and believes both the Dundee and Yamhill-Carlton estates are stunning vineyards producing world-class wines!  Learn More about Four Graces
Resilient Bourbon
Resilient Bourbon – the American Spirit!!!  Resilient straight bourbon whisky barrels are hand-picked single barrels of quality.
Resilient Bourbon looks for barrels that are well balanced with grain and wood. Barrels that really shine and bring some great flavors to the nose and palate.  They enjoy finding these barrels, bottling them up and bringing them forward to friends and the community of whisky enthusiasts.  Each label contains all the information one would want. The 53 gallon newly charred American oak barrels, where it's bottled, barrel #, bottle #, distilled on date, bottled on date, proof and mash bill.  Quality bourbon, being transparent in the process with all the relevant information and bottled with enthusiasm, is their formula to being resilient in ever changing times!  Learn More About Resilient Bourbon
Local Vendors and CBD Education!
Our Open House will also feature local artists displaying their crafts as well as CBD education and samples.  See handmade, one-of-a-kind jewelry by Lauren Antionette Designs.  Meet Claire White, the hand and the heart behind White Ink Calligraphy. And finally, Lauren Spina with Best Strands will join us to answer all your question about CBD products…and offer free samples!