24 Aug

Feature: Kermit Lynch for the Daily Grind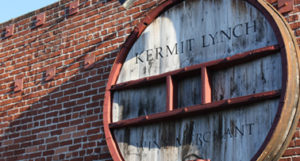 This week we are featuring some Kermit Lynch Wine Merchant French favorites that aren't only palate-pleasing; they're budget-easing as well!  With the summer months rapidly coming to a close and those back-to-school credit card bills sitting in your mailbox, we figured you'd need a drink. Because let's face it, we ALL need a drink. Here's what you need!
From the mind behind our inkiest instant classic, Petite Serine, Cyriaque Rozier of Château Fontanès: 
Château Fontanès Pic Saint-Loup Rosé:  Hand harvested in the Languedoc, this gentle rose has a subtle aroma of raspberry which gives way to a pleasant, soft-fruited, herbaceous palate. The Limestone soil gives the grapes a punch of minerality that rounds out the finish. A true crowd-pleaser. Easy to drink and even easier to love!
$19.99
The original vine plantings of Corbières date to the early Roman Empire, and the family of producer Bruno Laboucorié has been making wine here since the 17th century with Domaine de Fonsainte being founded in 1971:
Domaine de Fontsainte Corbières Rouge 2014: Predominately Syrah, equal parts Grenache and Mourvedre, with a touch of Cinsault and Carignan. This Languedoc stunner is dark and rich on the nose yet surprisingly delicate tannins and body. Hints of blueberry and chocolate linger for days.
$16.99
Domaine de Fontsainte Gris de Gris Rose: Two-to-one, Josh has probably put this in your hand and shouted "YES!" at you some point this summer. This pink gem has been a store favorite summer after summer and just won't quit! Bright pink with a kick of watermelon, peach and strawberry that wraps up with crisp acidity will keep you wishing you could drink pink all year long.
$19.99
A protégé of the natural wine pioneer Jules Chauvet, Marcel Lapierre spearheaded the return to biodynamic, organic, sustainable growing and natural winemaking in the pesticide-drenched 1970s Central France, and his legacy has been taken up by his son Mathieu and daughter Camille:
Lapierre Morgon 2015: New-school Beaujolais at its absolute finest! It's Cru. It's magnificent. At the same time, this wine is both elegant and rustic. Fresh yet grippy. Dominated by fresh raspberries and visions of France, you seriously cannot get enough of Marcel Lapierre's legacy. Drink now or lay it down!
$32.99