18 Nov

IndieNashGiving: 10% of Saturday 11/26/16 Sales

Next Saturday, November 26, 2016, the Wine Shoppe at Green Hills will be participating in #IndieNashGiving, donating 10% of all Sales to Monroe Carell Jr. Children's Hospital at Vanderbilt.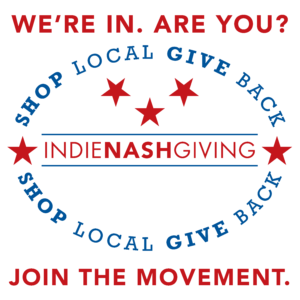 Be sure to stop by the store at 2109 Abbott Martin Road on November 26th any time from 9 a.m. to 11 p.m. to stock up on your holiday wine and sipping spirits. Through your purchases, you'll be benefitting a great cause!
Help us give back to the community on Small Business Saturday!!!
Monroe Carell Jr. Children's Hospital at Vanderbilt is one of the nation's leading children's hospitals. They treat and help prevent all health issues ranging from colds and broken bones to heart disease and cancer. The world-class facilities at Children's Hospital are a testament to our community's dedication to the health of children. Constructed in 2004 and expanded in 2012, the 271-bed hospital is a child-friendly place built on the science of healing. Children's Hospital is a nonprofit facility. No child who needs their services is denied care on the basis of limited ability to pay.
More about the IndieNash Movement:
The Wine Shoppe at Green Hills is a founding member of the Nashville Independent Business Alliance (NIBA). NIBA is a non-profit organization who advocates solely for local independent businesses representing the entertainment, retail, hospitality and service sectors. Through our collective voice and actions we will inspire, empower, and champion a movement to keep Nashville's independent spirit thriving. This will involve working with independent business owners, civic leaders and the community at large. To achieve our mission we will utilize both our organization and the IndieNash brand.