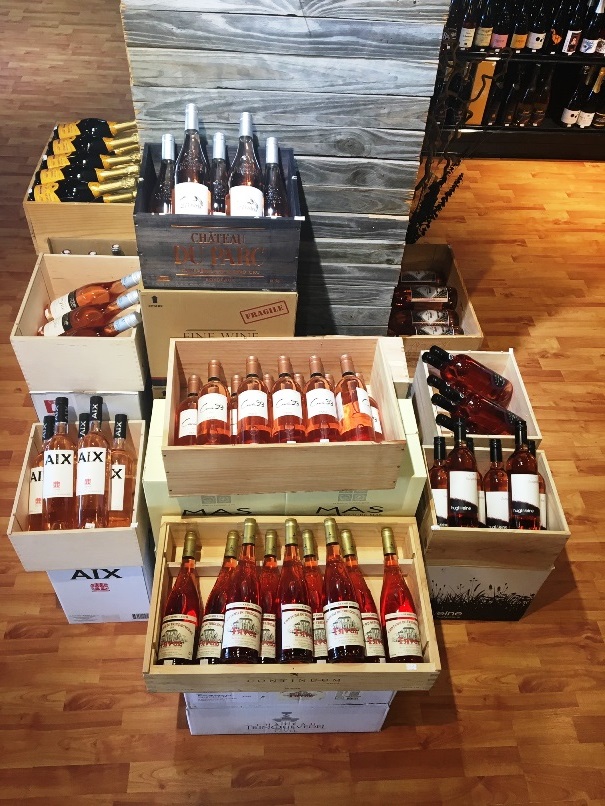 21 May

Memorial Day Sale!!! 10% Off All Rosés May 24th thru May 27th
We kick off the start of the Rosé season with a BANG!  The Shoppe is fully stocked with our favorite Pinks.  From Bandol to Zweigelt we have a Rosé to suit your palate and pocketbook.
Rosé has exploded on the US market over the past few years, especially during the warm months of the year. In France, it now eclipses the sale of white wine.  It also happens to be the perfect wine for sipping in the park or at a backyard barbecue. Suffice it to say, Rosé has become incredibly popular, but most of us don't know how Rosé is made or where some of the best rosés comes from.
Unlike white grapes that become white wine, and red grapes that become red wine, pink grapes don't exist in nature; so, how do winemakers create a style of wine that always has such a beautiful pink color?   The answer here is skin contact…when all grapes, no matter their color, are juiced, the juice that runs out of the fruit is clear. Wines receive their color not from the juice but from the juice's contact with the skin of the grapes. As the skins and the juice soak together the color from the skin bleeds into the juice, giving the wine its yellow or red color. This process is known as maceration.
Winemakers create Rosé wine by juicing red grapes and then allowing the juice to soak with the skins for a very short period, usually only two to three days. As soon as the juice begins to take on the beautiful pink color the winemaker desires, the skins are removed and the juice is allowed to ferment, creating delicious Rosé.
So where to the best Rosés come from?  The obvious answer of course is France starting with Provence, Bandol, Tavel, and Sancerre.  Italy too offers great Rosatos from the Piedmont, Tuscany, and even Sicily.  In Spain, Rosé is called Rosodo and some of the best come from Ribera Del Duero to the north of Madrid.  Finally, California and Oregon winemakers have gone crazy for pink wines in the past few years and are cranking out some outstanding Rosés.
So Stop by The Shoppe this Memorial Day Weekend, Save $$$, and DRINK PINK this summer!