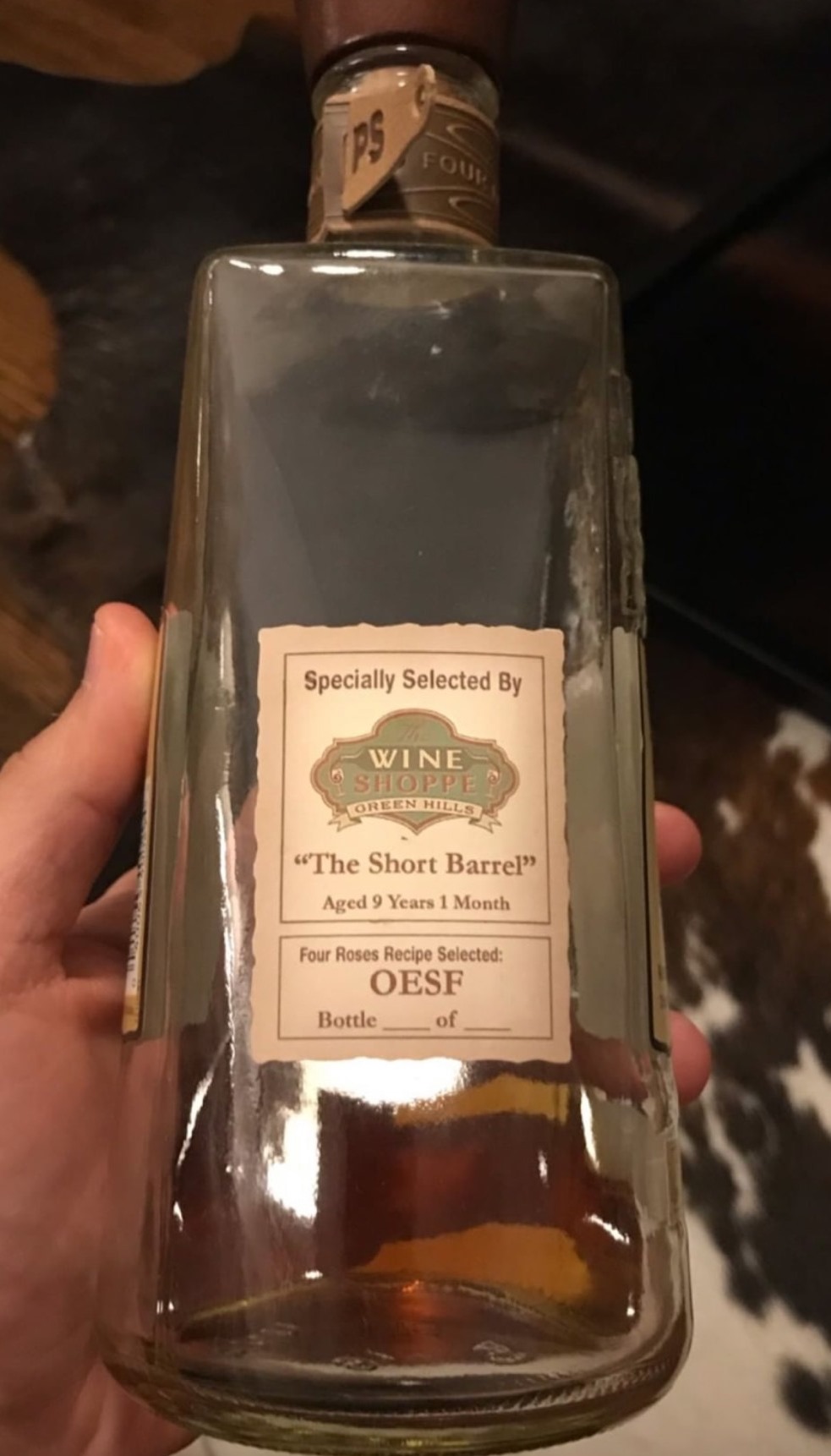 22 Jun

The Legend of "The Short Barrel"

This weekend my daughter sent me a very sad picture!  It was an empty whiskey bottle.  The bottle was one of our store picks from 2016, "The Short Barrel" Four Roses Private Selection Single Barrel.  This particular store pick was without question our finest!

Overcome with sadness I decided to document the story of this amazing single barrel…

On January 29, 2016 a small band of bourbon-mongers from the Wine Shoppe journeyed to the Four Roses warehouse and bottling facility in Cox Creek, KY.  The morning was cold and rainy, perfect weather for sampling bourbon.  The group included myself, Dan Hutchinson, and Samantha Bales from the store.  We also brought along three of our best whiskey customer – Lance Wheeler, Brent Morris, and Jonathan Heard.  Little did we know the amazing experience to come?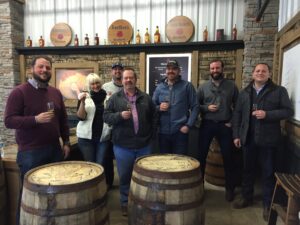 We were greeted by Mandy Vance, Manager of the Private Selection Program.  We were also welcomed by 10 barrels of Four Roses, one each of the 10 recipes that Four Roses produces; 2 mash bills and 5 different yeast strains.  This was going to be fun!
We dispended with the introductions and Mandy' assistant proceeded to draw samples from each barrel for our party.  When the guy reached barrel No. 9 his thief pulled lots of charcoal.  He jostled the barrel and determined that this particular barrel was only about a third full – a short barrel.  They quickly rolled out the shorty and brought us a full barrel of the same recipe.  Let the tasting begin.
Tasting through 10 barrels is a daunting task.   We all voted for our favorites and narrowed it down to the top four choices.  We then sampled again and discussed the merits of each.  Time passed and the whiskeys really opened up!  Finally the group reached a consensus.    The Winner was barrel number 9, the OESF; 75% corn, 20% rye, 5% malted barley and yeast with herbal notes; full bodied, minty, fruity and spicy!  It was Yummy!!!  Job well done.
At some point during the celebration of our final pick…we got the brilliant idea (it might have been Jonathan…or Dan, my memory is fuzzy) to ask the staff to bring back that short barrel of No. 9.  Again, the thief pulled lots of char and we let it settle in the glasses.  As each member of the group took their first sniff and sip of "The Short Barrel", eyes went wide!!!  You had me at hello!  Totally Awesome Bourbon!!!
I quickly realized we had to have both barrels and the decision was made.  We all left Four Roses that day with a very strong feeling of anticipation…like kids waiting for Christmas.  Over the following months I communicate with Mandy and our distributor about labeling and delivery.  It was a no-brainier to label this one "The Short Barrel."  Finally on May 24th, 2016 the store picks arrived!  Why it takes almost 4 months to bottle, label, package, and transport from KY to Nashville I will never know?  Those 4 months felt like a year but it finally came…just like Christmas.
I'd like to think our Short Barrel was the greatest single barrel Four Roses ever produced.  The Short Barrel only yielded six 6-pack cases, 36 bottles of bourbon royalty.  Most of those 36 bottles we reserved for our best customer.  Few got put out on the shelf for the general public…but some did.  Those lucky enough to score one still rave about it today.  Legendary!!!
So it is with great sadness that today I learned about the passing of another bottle of "The Short Barrel."  I hope it wasn't the last.  If anyone reading this has any left or know of any left out in the wild, I want to hear from you.
If not, RIP "The Short Barrel."  Keep searching for your next perfect whiskey.