24 Apr

Regio Wine Tasting – Saturday April 27th from 3 to 5 PM

California's Lodi wine region has been growing grapes for over a century, but the last decade has seen an explosion of regionally-inspired wines coming of age and anxious to share their commitment and inspiration. In fact, Lodi boasts some of the oldest Zinfandel vines on the planet! And while the Zinfandel grape placed Lodi firmly on the regional wine map and big names like Ravenswood and Woodbridge have sourced grapes from Lodi's 100,000 acres of wine grapes for years, it's been the family-owned, boutique wineries that have given significant expression to the region.  One example is REGIO, the Italian word for royal.  Regio Zinfandel is hand-picked, hand-select grapes from one of the oldest vine / old clone Lodi vineyards, some dating back to the 1850s.  It is rich, juicy and alluring on the palate with flavors of ripe red summer berries, cranberry, and hints of cinnamon and pepper. The long and delicious aftertaste is worthy of the history and work that has gone into those old vines all these many years. The perfect wine for summer grilling…best paired with roast pork, burgers, grilled sausages, or BBQ chicken!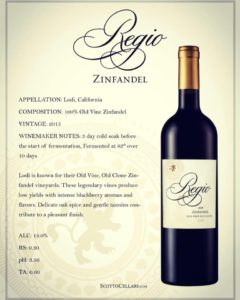 And yes, they have a cool Malbec we really think you will love too. So join us this Saturday afternoon from 3 to 5 for the Lodi party!!!