12 Nov

Our Latest Buffalo Trace Barrel Selection is Here!

It's finally here, and it's just as great as . . . I think it was two Buffalo Trace Barrels ago. It's as great as that one. Maybe greater. A gorgeous, foxy, reddish hue, this barrel strikes the balance between sweet and savory notes for which BT is so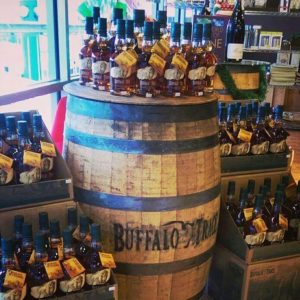 beloved. The little arrow of candied orange tartness pierces a large, round body in which vanilla and molasses swirl around spearmint and coriander. Rich and deep with a finish that lingers persistently without having an oily texture.
Liters, Pints, and Fifths 'til it's gone! 102 Proof.
Extra special thanks to Luke Nowlin for lending us his palate on this selection!