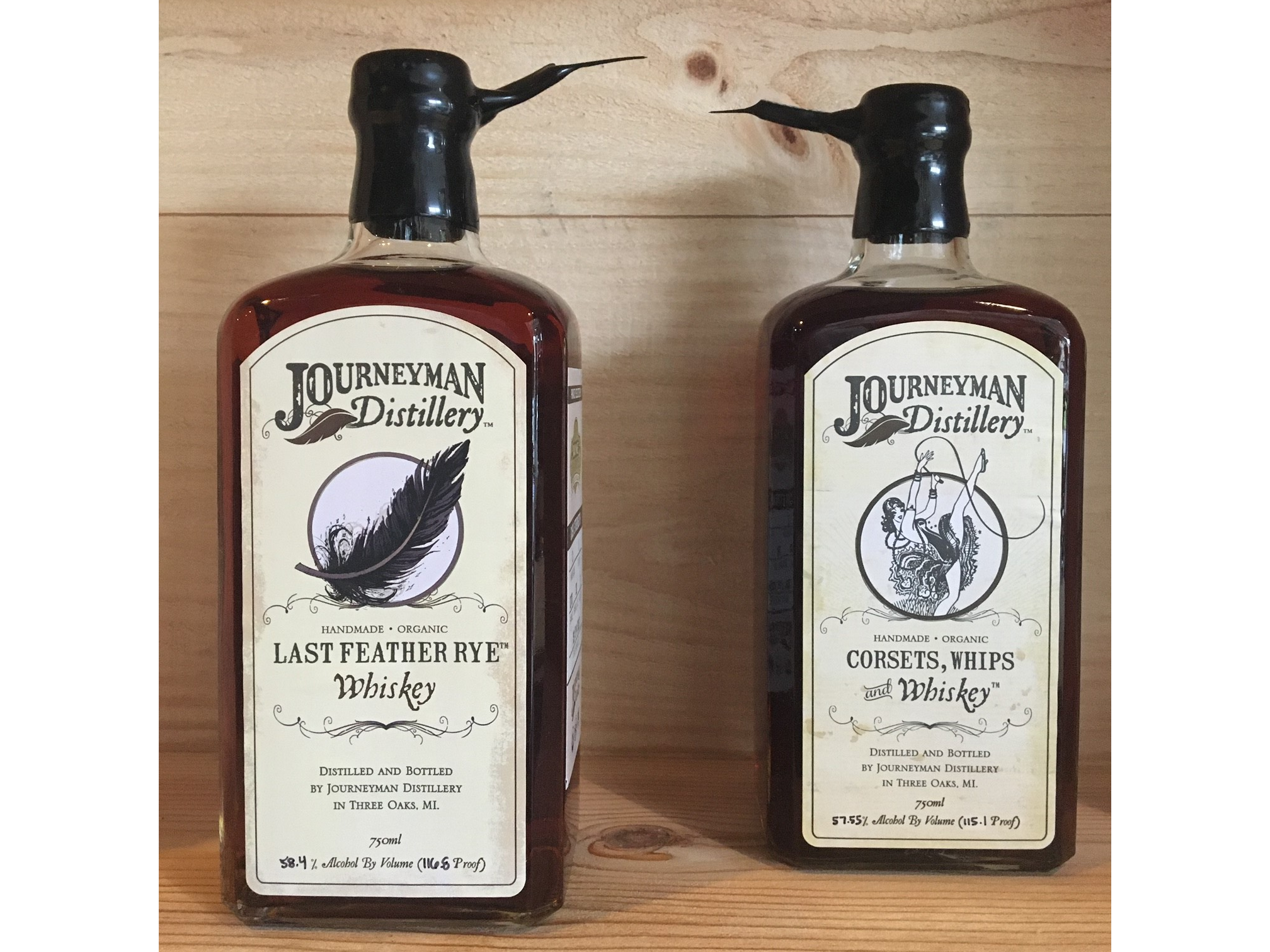 19 May

New WSGH Barrel Picks!!!
Two Michigan Classics!
Journeyman Last Feather Rye
The flagship product of Journeyman Distillery, The Last Feather is one of the few wheat heavy rye whiskies (60% Rye/40% Wheat) on the market; a beautiful balance of the spice of rye and sweetness of wheat.  This whisky was once served a cease & desist for its original name!  The name Last Feather was adorned to this whiskey after all they had left when the lawyers were through was nothing more than the "Last Feather" of the original name.  And of course, it stuck!  Every bottle now bares a "RR" as a small tip of the cap back to the original name never to be whispered aloud.
Two-time Gold Medal Winner at the World Spirits Competition, Journeyman Last Feather Rye Whiskey is adored for its pepper rye, spicy, pepper and caramel flavor notes. It is a classic, balanced, Rye Whiskey with a fruity & spicy birth; while a spicy yet delicate life leads to a long, dry & warm death with notes of grain, baking spice & pepper.  Our pick was barreled in May 2017 in a 30 gal. barrel and later bottled at 116.8 proof.  This whiskey has depth and character that defies its young age!  If you are a fan of Rye Whiskey, you're going to love this one!
Click here and get 10% OFF when you use promo code RYE!
Journeyman Corsets, Whips & Whiskey
Journeyman Distillery is located in an old 1800's corset and buggy whip factory in Three Oaks, Michigan…once a dry town by the way.  Named after the products produced at the historic Featherbone factory building throughout time, this 100% wheat, cask strength (115.1 proof) whiskey is a true tribute to American manufacturing.  This limited release whiskey showcases the high quality and terroir of the organic Michigan wheat used to produce it. The 100% wheat provides a soft sweetness and smoothness to this whiskey unlike any other and reminiscent of an Irish whiskey on the palate.  Our pick came from the master distiller's R&D stock of 5-gallon trials.  So obviously, supplies are very limited!  Barreled on March 13, 2018, the tiny barrel size promoted rapid aging (2.7 X) and gives our pick the favor equivalent of a much older bottle.
Corsets, Whips & Whiskey has a great mouth feel; viscous, chewy, and mouth coating!  On the palate you taste sweet rolls, rich citrus, vanilla, and caramel.  At the finish you feel warming and the added complexity from the higher alcohol content.  Whiskey foragers better snatch this one fast!